Intensive care units (ICUs) are stressful environments in which pain and human suffering are often experienced alongside great pressure and temporary urgency to perform work (van Mol et al., 2015). In these cases, health professionals are subject to extreme stress and work overload, and are often exposed during their work to occupational risk factors that have the potential to affect their mental health and psychological well-being over time (Gómez-Martínez et al., 2015). In fact, the literature has shown that, within ICUs, professionals may experience psychological problems such as burnout, stress, anxiety, and depression (Gómez-Martínez et al., 2015; van Mol et al., 2015). Nevertheless, many health professionals do not benefit from interventions introduced by psychology professionals in their organizations to improve their levels of mental health and psychological well-being, which could have serious consequences for workers, patients, and organizations (Bond et al., 2010; Waters et al., 2018).
Psychosocial interventions to reduce stress and increase workers' well-being can take two main forms (Van der Klink et al., 2001): interventions which redesign the job or task to reduce the workload and pressure faced by workers, or providing them with greater autonomy and support at work, and interventions which provide workers with the necessary skills and resources to cope with stress. These two complementary types of interventions should not be mutually exclusive. Sources of stress in certain occupations are, to some extent, inherent and unavoidable (e.g., contact with pain and death within the health care professions); hence, training professionals to develop emotional coping strategies can be important in such a professional context (Bond et al., 2010; García et al., 2018).
Regarding the second type of intervention, stress management training (SMT) is the most well-known approach (Van der Klink et al., 2001); it is based mainly on cognitive-behavioral techniques and its effectiveness has been widely demonstrated by various meta-analyses (for example Tetrick & Winslow, 2015). SMT provides workers with tools for identifying dysfunctional thoughts (and replacing them with more adaptive ones), improving their social and communication skills, engaging in problem solving and developing techniques that help them to relax when facing stress.
Within this context, one type of SMT that is attracting increasing interest among researchers and clinicians is training based on acceptance and commitment therapy (ACT; Flaxman et al., 2013). ACT is part of a larger group of cognitive-behavioral therapies, called third generation or contextual therapies (Hayes et al., 2012), and is based on a functional contextual perspective derived from behavioral principles and extended through relational framework theory. ACT argues that people's emotional and psychological distress can be explained not so much by the negative content or frequency of their internal psychological experiences, but by how they relate to difficult experiences when they arise (e.g., unpleasant thoughts, emotions, sensations, or memories; Bond et al., 2010). Mental health problems, such as depression or anxiety, may be caused by psychological processes such as attentional rigidity (i.e., not being able to direct one's attention to what is happening in the present since attention is focused on remembering past events or anticipating future events); avoidance of negative psychological experiences (i.e., devoting energy to controlling or eliminating negative emotions, feelings, or thoughts, due to avoidance); or lack of action by the person based on his or her personal values (i.e., behavior being governed and regulated by adverse mental content, rather than by contingencies of the present situation and an individual's personal values and goals; Hayes et al., 2012). The ultimate aim of ACT training is therefore to teach people to pay attention to, and engage with, experiences in the present moment, relate to their negative internal events with greater acceptance, and commit to actions that are directed toward their personal values and goals. ACT aims to generate greater psychological flexibility in individuals (Hayes et al., 2012; Waters et al., 2018). Psychological flexibility can be understood as the ability to focus on the situation one is experiencing in the present and, depending on the opportunities offered to the person by that situation with reference to his or her personal values and goals, to take action toward them, even in the presence of negative internal events (Lloyd et al., 2013).
Interest in this therapy has been growing over the past two decades and it is already considered to be "possibly efficacious" for the management of depression, anxiety, and stress at work (Öst, 2014). In fact, in the field of occupational psychology, different empirical studies have shown the ability of these ACT interventions to improve workers' mental health (Macias et al., 2019), their resistance to burnout and their psychological well-being (Frögeli et al., 2016), and/or their personal psychological flexibility and mindfulness (Frögeli et al., 2016; Waters et al., 2018). In occupational fields such as health care jobs, these interventions can help workers to cope with others' human suffering and prevent the development of certain psychosocial risks, such as burnout or secondary traumatic stress and its consequences (Frögeli et al., 2016; Ortega et al., 2008).
ACT training sessions for managing job stress are commonly short (workshop format), group-based, and skill-building to fit workers' organizational and task requirements (Bond et al., 2010; Waters et al., 2018). In fact, the best-known format involves three face-to-face sessions of approximately three hours (Flaxman et al., 2013). The brief nature of this type of intervention is particularly valuable in health care professions, and even more so in services such as intensive care, since these require professionals to adapt to dynamic working conditions (e.g., high staff turnover, sudden shift changes, and long working days; García et al., 2018; Waters et al., 2018).
This study aims to contribute to the literature exploring the effect of ACT-based training on mental health in an organizational environment, and specifically within work contexts characterized by high work demands, such as a ICUs. Despite the fact that international studies have shown the value of such a training, few studies in Spain have explored its effects (Blanco-Donoso et al., 2017; Ortega et al., 2008); therefore, this study proposed to explore the impact of ACT training on ICU workers. Specifically, the study hypothesized that short ACT training sessions would lead to improved levels of depression, anxiety, and perceived stress among workers in an ICU in a Spanish tertiary hospital. In addition, it hypothesized that this improvement would be attributable to an increase in workers' levels of psychological flexibility—one of the core abilities emerging from ACT, which has been shown to mediate changes in this type of intervention (Waters et al., 2018).
Design
This research had a mixed methods design, using both quantitative and qualitative methods. The quantitative component involved a quasi-experimental pre- and post-intervention study with two groups (quasi-experimental and waiting-list control group). The participants in the waiting-list control group received the intervention immediately after the quasi-experimental group had completed it. Therefore, the quasi-experimental group was evaluated on three occasions: before (baseline), after, and one month after the intervention. However, the waiting-list control group was assessed on four occasions: the first, concurrent with the first assessment (baseline) of the quasi-experimental group; the second, at the time of the second assessment of the quasi-experimental group (to ensure the control condition); the third, when this group also completed the intervention; and the fourth, one month later, coinciding with the follow-up measurement of the quasi-experimental group. Participants were not randomly assigned to groups due to service restrictions. Specifically, the groups were formed according to professionals' work shifts, so that the quasi-experimental group was made up of workers who had morning shifts, while the waiting-list control group was made up of workers on afternoon shifts.
Sample
Twenty-two medical and nursing professionals participated in the training, most of whom were female nurses from the ICU of a large public hospital (tertiary level) in Madrid Region, Spain. The sample was therefore a non-probabilistic, convenience sample. The only inclusion criterion was that practitioners gave their consent to voluntarily participate in the study and be evaluated at various points in time. There were no exclusion criteria. Table 1 shows socio-professional characteristics of the participating sample. As can be seen in Table 1, there were no significant differences in any socio-professional variables between members of one group and the other at the beginning of training. Initially, the quasi-experimental group consisted of 14 participants and 13 completed the pre- and post-measurement. The waiting-list control group was made up of 8 workers, all completing the pre and post measure while on the waiting list status. However, when the waiting-list control group conducted and completed the workshop, only 3 completed the post measure. A total of 16 workers participated in the follow-up. Finally, 9 nurses agreed to attend the semi-structured interviews at this phase of the study.
Table 1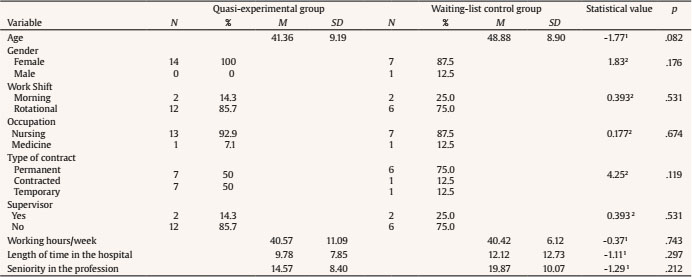 Procedure
First, the approval of the University's Ethics Committee was obtained [masked for review]. Thereafter, we contacted the hospital's Occupational Risk Prevention Service, which liaised with the Intensive Care Medicine Service to offer training to its workers. Unit supervisors informed their teams about the study, which they advertised as training to help them manage stress in the work environment. A week before the intervention, enrolled participants from both groups were invited to a joint briefing about the study and the intervention. This session was also used for participants to complete baseline measurements. With regard to post-intervention measurement (at the end of the workshop) and follow-up (after one month), evaluation was carried out electronically, with participants accessing an online questionnaire by means of a personal code. When the intervention was completed, psychologists who conducted it invited participants to attend face-to-face interviews (one month after the intervention), during which they would be asked questions about their experiences of the implemented program.
Intervention
The training used a group workshop format, with three sessions of three hours duration each during a single working week (on alternate days), but outside working hours. Intervention and interviews were carried out by the first two authors of this paper, who are health psychologists trained in ACT and have experience applying such interventions in work environments. Training sessions followed the format of standard ACT work manuals (e.g., Flaxman et al., 2013).
The first session identified workers' stress responses, along with their main causes, and identified emotional barriers that prevented workers from achieving full and satisfying lives. Ineffectiveness and long-term consequences of experiential avoidance were also analyzed and psychological acceptance was offered as an alternative strategy. During this session therapists investigated, dialogued with, and confronted participants on these issues and used metaphors, paradoxes, and experiential exercises according to standard ACT practices. In addition, in this session mindfulness was introduced as a way of achieving an attitude of acceptance toward negative internal experiences in the present, and attention in breathing and body scanning were practiced.
During the second session, therapists worked with professionals on notions of context and cognitive defusion, again supported by experiential exercises. They also worked on the clarification workers' personal objectives, goals, and values through dialogue, group discussion, and relevant exercises. This session continued the mindfulness practice to promote contact with the present moment, and workers conducted meditation on their thoughts to facilitate cognitive defusion.
Finally, in the third session, therapists again used metaphors and experiential exercises to reinforce the material. Regarding the practice of mindfulness, during the session, participants meditated on their emotions, using self-compassion meditation that aimed to promote an attitude of acceptance and self-care in the face of emotionally difficult experiences.
During the three sessions, care was taken that all the examples and discussions could be applied to both workers' work and personal environments. In addition, participants were encouraged from the first day to carry out exercises at home during the week. On the same day that participants attended the session, they received an email containing all the material covered during the session, together with an audio recording to help them to go deeper into practice. Finally, throughout the week and during the follow-up period, participants received messages on their mobile phones to remind them and motivate them to practice activities at home.
Study Variables
Depression, anxiety, and stress. These factors were evaluated using the Spanish version of the DASS-21 Scale (Daza et al., 2002), which consists of 21 items to assess symptoms of depression (7 items; e.g., "In the last week, I felt sad and depressed"), anxiety (7 items; e.g., "In the last week, I was afraid for no reason"), and stress (7 items; e.g., "In the last week, I felt very nervous"). The Likert-type response scale ranged from 0 = never to 3 = most of the time. Cronbach's alpha values for this study were .85, .70, and .91 for depression, anxiety, and stress, respectively.
Table 2

Psychological flexibility. Psychological flexibility was evaluated using the Spanish version of the AAQ-II questionnaire (Ruiz et al., 2013). This questionnaire consists of 7 items (e.g., "My painful memories prevent me from leading a full life") and uses a Likert-type response format ranging from 1 = never true to 7 = always true. Cronbach's alpha values for this study was .90.
Semi-structured post-intervention interview. Three questions were asked of each of the nine professionals who agreed to be interviewed after the intervention: (1) "What was your motivation for enrolling in the workshop?", (2) "Has the workshop helped you in any way?", and (3) "Have you noticed any changes, since the work-shop, in the way you relate to stress, to your negative emotions, feelings, or thoughts, or to others in your work or personal life?"
Data Analysis
First, Mann-Whitney U and chi-square tests were performed to determine whether there were differences between socio-professional and dependent variables before starting the intervention.
To analyze the effect of the group on the change of dependent variables, a covariance analysis (ANCOVA) was performed, using partial eta squared statistic (ηp2) as an indicator of effect size. For this indicator, values of .01, .06, and .14 indicated small, moderate, and large effects, respectively (Olejnik & Algina, 2000). A non-parametric test of Wilcoxon's sign ranges was carried out to observe changes before and after the intervention in each of the groups, and to evaluate changes one month after the end of training in the total set of participants attending follow-up. In this case, r values of. 10, .30, and .50 were used to reflect small, medium, and large changes, respectively (Cohen, 1988).
To analyze the indirect effect of the "psychological flexibility" variable as an element by which change in dependent variables could be produced, a simple mediation model was tested using a bootstrapping procedure and the PROCESS macro for IBM® SPSS Statistics 24 (model 4; Preacher & Hayes, 2008).
Semi-structured interviews were analyzed using a qualitative methodology based on thematic analysis (Braun & Clarke, 2006). This was carried out following the six-step procedure proposed by Braun and Clarke (2006). Specifically, interviews were first transcribed by one of the authors of this paper. At this point, interview transcripts were read and re-read, noting main ideas. In the second phase, carried out by two of the other authors of this paper independently, interesting characteristics of data were coded for the whole data set. Codes were then collected for potential themes, which were identified, defined, compared, discussed, and refined by researchers. Finally, vivid and clear extracts were selected and analyzed in relation to research questions.
Quantitative Analysis
Mann-Whitney U test (Table 2) revealed that both groups showed no significant differences in dependent variables before the training began.
Regarding the results of inter-group comparison, as also shown in Table 2, results of the ANCOVA test revealed that training produced significant changes of large magnitude in depression (F = 6.98, p < .05, ηp2 = .280) and perceived stress (F = 5.95, p < .05, ηp2 = .248) variables, with decreased means for the quasi-experimental group after training; however, there were no changes in either anxiety or psychological flexibility of professionals. In fact, the latter variable did not explain changes found in the depression and stress variables as hypothesized, according to confidence intervals of the mediation test (estimator = -0.0141, SE = 0.08 &lsqb;0.239, 0.070&rsqb; and estimator = -0.0158, SE = 0.08 &lsqb;-0.263, 0.100&rsqb;, respectively).
In terms of changes within both groups, the Wilcoxon test (see Table 3) revealed that the quasi-experimental group significantly decreased their levels of perceived stress after training (z = -2.24, p < .05, r = .43)—a change of medium magnitude. The waiting-list control group, while remaining in the waiting list condition, increased their mean for depression (z = -2.55, p < .01, r = -.63), with a large effect size. Later, when this group moved into training, no significant changes were observed within the group.
Table 3
One month after the training, participants in both groups who completed the follow-up measure showed significant changes in the perceived stress variable (z = -2.13, p < .05, r = .43), with a moderate effect size.
Finally, participants showed a high level of satisfaction with their participation in this workshop. On a scale of 1 (very negative) to 10 (very positive), participants (n = 16) indicated a notable degree of learning (M = 7.6), and found training extremely useful for their daily work (M = 8.5). In addition, workers indicated that the content of the workshop aroused their interest (M = 8.8), and their overall satisfaction was high (M = 8.5).
Qualitative Analysis
Theme 1: Motivations for participating in the workshop. Most participants reported that their interest in registering for the workshop was mainly linked to "finding tools to deal with the stress" (sub-theme 1.1) that they were experiencing at that time in their lives, both inside and outside work. One of the nurses expressed this view:
I thought it might help me to improve my anxiety and stress levels, especially, and my attitude toward my children, my family... I thought it could help me in that sense (E.9).
Another, smaller, group of professionals claimed that their main motivation was "the drive to increase their knowledge" (sub-theme 1.2) about SMT. One nurse referred to it as follows:
It's something I had heard about and didn't have much knowledge about ... and I like it, so I'm interested... It's something I wanted to know more about really (E.6).
Theme 2: Perceived health, wellness, and interpersonal relationship benefits. Brief ACT-based SMT produced changes in nurses' perceptions of their physical health, energy, and interpersonal relationships, both on and off the job. Below is one of the professionals' comment that reflected "improvements in physical symptoms" (sub-theme 2.1):
Attention on breathing relaxes me and that helps me a lot. Now I don't have so much tension. I found that, previously, I had back pains... also in the shoulders, but now the area is more relaxed (E.7).
On some occasions, an "improvement in energy and vitality levels" was also identified (sub-theme 2.2), as stated by this professional:
At work I am more attentive to what I do, which makes me face things with more equanimity, and with fewer expectations, you know? Surprisingly I feel more energy. Anyway, I am open to what comes; bring it on! … It was not so before (E.7).
In addition, interviews revealed a generalized sense that, following the workshop, professionals experienced an "improvement in their ways of relating to others, both inside and outside of work" (sub-theme 2.3):
As for my colleagues, I had a very bad introduction to them; not with the work itself, but with my colleagues... Taking the course has served me well, because in the end I have realized that we are all as we are, and we all do the same work: I no longer get angry as I did before. Now I focus on me and try to help them [my colleagues] when I can to generate a good climate (E.3).
Theme 3: Changes in psychological processes. ACT-based training has always been concerned with knowing what psychological processes are mobilized during training that can account for changes in variables such as workers' h